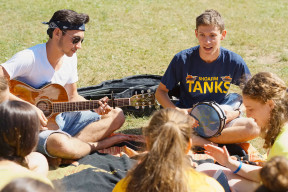 This article originally appeared on the Canteen Blog at My Jewish Learning on April 4, 2016
Ah, sweet memories of starry night skies…standing in a circle of teenage peers, blanketed by the fragrant summer air, our souls lifted upward in heavenly bliss by the sounds of the guitar and our voices singing together in perfect unity. The words we sing express our overflowing, positive feelings about ourselves, our fellow community members, and our idealistic vision for a better world.
Isn't this what camp is all about?
Here are the top eight essential camp songs, the words and melodies that capture those magic moments when we put our arms around each other's shoulders and drink in the love.
Lean On Me
Lean on me when you're not strong
And I'll be your friend, I'll help you carry on
For, it won't be long
Till I'm gonna need somebody to lean on
I'm here for you and you're here for me. Whether it's a shoulder to lean on when you're weary or a listening ear when you're sad, you can depend on me.